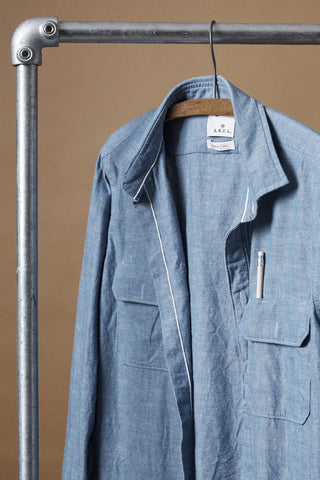 We're very excited to welcome A.B.C.L.'s AW19 collection to the store. We've been eagerly anticipating Mattia and Antonio's mix of Italian-Japanese artistry ever since we saw the collection in Paris. Below are the highlights and some of our favourite pieces.
The secret print inside the A.B.C.L. trousers. A beautiful touch.
As expected from a brand that has been influenced by the master tailors of Italy and the craftmanship of Japan, we've always been drawn to A.B.C.L.'s attention to detail and clean lines. The staples of oxford button-down shirts and straight trousers have been retained in the current collection, and these have supplemented by knitwear and outerwear. Perfect for the cold months coming ahead. 
Choice of fabric has been key this season, as seen in the Officer trousers
We've gone for two styles of trousers this year. The Officer trousers are inspired by vintage military wear, with side-adjusters and watch pocket on the back. This comes in a signature tapered cut.
The Service jacket, made with indigo cotton
Using the same material as Officer trousers, the Service jacket features an indigo cotton woven in twill. Again, the military details are all here with the welted pockets, and the mid-weight of the jacket is perfect as either an outer layer in the crisp Autumn weather, or something to be worn under a coat on the coldest days. This jacket will only get better as it ages.
The Calm knit, made in Japan.
The range is complemented perfectly by the Calm knit. Available in grey and navy, the super-soft Japanese dobby cotton is paired with a mock neck collar.  This relaxed piece is the epitomises the warmth and cleanness of A.B.C.L.
The entire collection is made either in Italy or Japan, which is proudly stitched onto each piece.
You can find the full collection here.